Hudson River Arts Festival


Essential Massage Also Provides Chair-Massage!

Contact Essential Massage to discuss rates and logistics.
30 Minute On-Site Massage

$40.00

(845) 235-9928

60 Minute On-Site Massage

$65.00

Or email
essentialmassage@essentialmassage.net

90 Minute On-Site Massage

$100.00

Sessions are by appointment and never rushed.


60 Minute On-Site Couple's Massage

$150.00

4-Pack ! (4) One Hour Essential Massage
Gift Certificates @ $225.00 Great Gift !

Essential Massage Accepts Cash, Checks or online Credit Card payments
according to Terms, Conditions and the Cancellation Policy.

Usually your first Essential Massage session will occur at Essential Massage.
Subsequent sessions may be available off-site at your location.

HOURS:
We do not accept walk-ins, walk-thrus or make same day appointments.
Sessions occur Monday thru Sunday by appointment only and are scheduled at least 24 hours in advance. Gift Certificates are available 24/7 online.


A CONVENIENT LOCATION...
Essential Massage is located just off Route 9,
in a beautiful Historic District of Poughkeepsie, N.Y.
less than 3 miles from Vassar College.

Your massages will be
quietly and deeply effective.

We remain dedicated and grateful to our
Hudson Valley community and visitors alike,
for allowing us to provide you Essential Massage for over 10 years. We thank you and welcome you.
Hear What Essential Massage
Clients are Saying...







Essential Massage honors our clients' privacy and confidentiality.
That's why we don't have a Facebook Page.
If you've received an Essential Massage and would like to
Add Your Testimonial,
please email it to us and we'll gladly share it.


Essential Massage on The Walkway Over the Hudson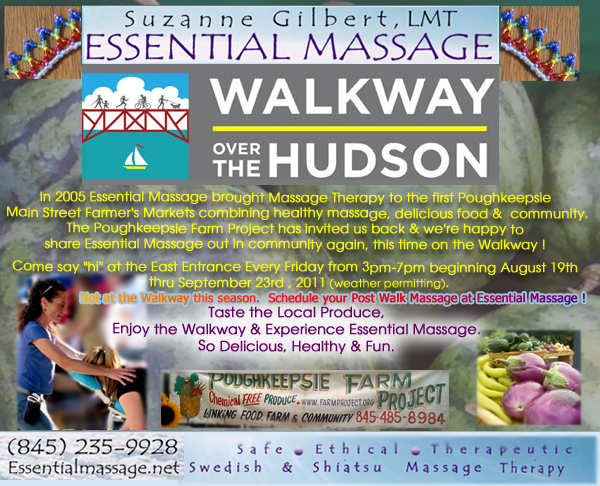 Essential Massage Offers Couples Massage...
"Couples Massage" means you experience Relaxing Massage at the same time and in the same room as your guest.
Two massage tables, Two Massage Therapists and
Two Very Relaxed Individuals all during One Great Hour!
...Now That's "Quality Time".




Essential Massage for Brides, Grooms, Wedding Parties or Out-Of-Town Guests ...


Essential Massage as a "thank you" is a great idea!
Everyone will feel rejeuvinated & relaxed,
ready to celebrate your special day.
The Brides and their Bridal Parties, Grooms and their Entourage
have all appreciated Essential Massage
as a healthy alternative to the traditional bachelor(ette) party.

...An Elegant and Memorable Gift.
| | | |
| --- | --- | --- |
| | JUST CLICK THE GIFT CERTIFICATE LINK ABOVE or BELOW | |
| | | | | | |
| --- | --- | --- | --- | --- | --- |
| | | | | | |
| Explore our Great News ! | Great New Jewelry! | New Health Network Participation! | Welcome! | Explore our Great Discounts ! | Buy them online! |
(845)235-9928 essentialmassage@essentialmassage.net